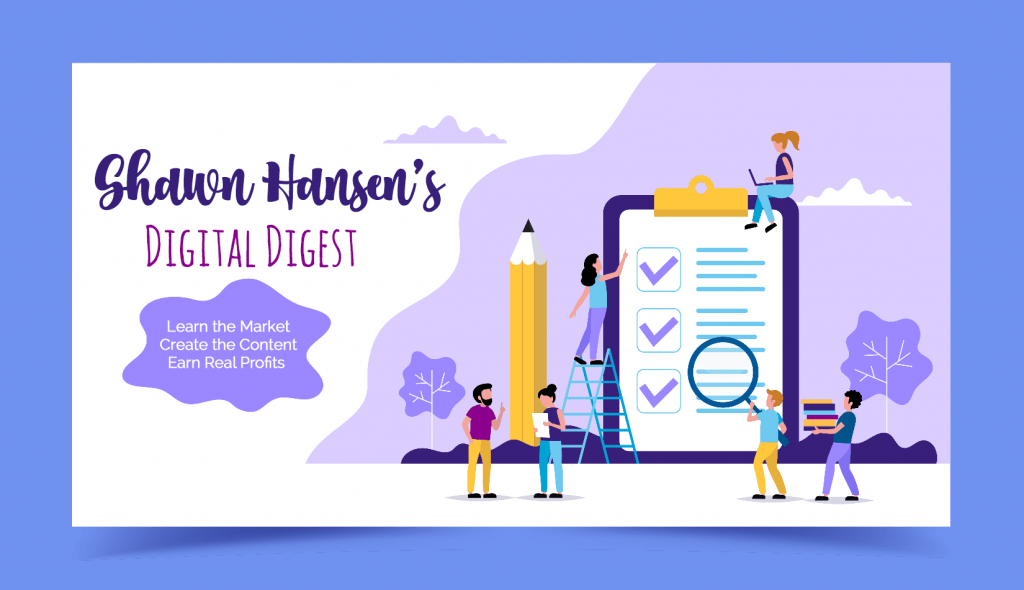 Are You Ready to Go Paper Free and Save a Tree?
---
After an unexpected absence in getting you the Digest, I'm happy to be back, kind of online, and once again rolling!
It's incredible to think about the changes that have taken place since I initially wrote this edition of the Digest, which had been planned to go out to you just one week ago today.
That time came and went while we were cut off from local, state, and world news: The Sunday before, we'd lost power AND all communications in our area from landline phones to the single cell tower that serves our community, and because we were also snowed in, getting even word-of-mouth information was impossible!
By battery-operated-lantern-light, we dug around in our garage and found an old AM/FM clock radio – you know the things most of us used to use as alarm clocks?! – and on Wednesday evening, we plugged it in to listen to the news while we ran our generator for the 2 hours we allowed each evening to heat our home and to cool our refrigerator, while rationing the gas we had on hand.
It felt to me like a modern-day recreation of the original Orson Welles' radio broadcast of War of the Worlds, and as we listed over the next several days – 2 hours in the morning and 2 hours in the evening – we gradually came to realize what we were hearing was real.
After nearly a week, power was restored in our community on Saturday, and a good foot of the the snow that had us trapped in our area had melted, so we were able to go to town for more gas, food, and medication.
Since that single trip to town, we've been home and observing our state's much-needed isolation rules.
If you're wondering what any of this has to do with the Digital Digest, it's my way of setting the scene for what's happening here because for most people, it's hard to comprehend just how technologically challenged my area is under normal circumstances let alone right now, and it has everything to do with my upcoming Let's Get Digital course, which is what this Digest is all about.
So, a bit more on the realities where I live…
We are one of several small communities that comprise THOUSANDS of people who are spread out over about 30 miles of rugged terrain, and who SHARE ONE SINGLE CELL TOWER.
It provides ALL cell and internet service – regardless of company – to EVERY SINGLE ONE OF US.
There is NO streaming anything.
We pay for Amazon Prime as we have from Day #1 of its existence, but we still only get free 2-day shipping from it because all the other services offered cannot be accessed here.
Remember Pandora? We were never able to use it – it streams. Apple music? No go. It streams. Netflix? Nope – we can't even get the DVDs delivered these days, and we could never stream any of it.
And THAT is what it's like DURING THE WEEK WHEN PEOPLE ARE AT WORK AND KIDS ARE AT SCHOOL.
As of March 20th, the very day WE got power back, and the first day we were able to leave our home, our state – California – went into lockdown.
Schools in our area were already closed due to the snow storm and power outage as were many local businesses, so our community had already been locked down for a week at that point.
Now that everyone is home and kids and adults are doing their best to learn and work from home, our internet access is even more taxed, and most of the day it simply does not exist.
I've rearranged my schedule so that I do my online things from about 2AM until about 8AM. After that, I do offline things to prepare for the next day's internet access.
In case it seems as if I'm complaining, I want to assure you that I'm not.
My family is safe and healthy, and as of yesterday, I have now connected with everyone I know personally and/or virtually either by phone, on Facebook, or via messenger, from the US and abroad, and I am relieved to know to a person they are all healthy and safe.
I know how lucky that makes me, and in the grand scheme of things, internet inconvenience is nothing compared to the world's battling COVID-19.
Despite the situation, we all have to do our best to just keep doing what it is we do, but that's where all of the little hiccups I mentioned above come in for me.
As I get up each day to do the things I do, they are, by necessity, adjusted things, and I suspect that it is the very same for you, and that you have your own extra challenges right now.
Since I announced the upcoming launch of my Let's Get Digital course back in early February, I've been anxiously awaiting March 26th – the day I'd planned to open it to the public.
When our power went out on the 15th, I got a little nervous, but I was still confident that once our lights came back on, I could scramble to do the remaining uploads, tests, and other things to be ready – even if I had to drive out of town to my parents' home to use their high-speed internet, which has for the past several years been my go-to option.
As I'm sure you've guessed by now, that didn't turn out to be the case: My uploads are stalled, and I can't leave town.
I've got just under 3/4 of the course uploaded and online ready for you, while the remainder is sitting on my hard drive awaiting its time slot to upload.
Oh, and it's not divided equally because over the past two years, as our internet has grown more and more taxed, I've taken to uploading by size – largest to smallest – not order when it comes to videos and other large files.
Some time ago – waaaaaaay before our current situation – I took to setting up the largest uploads overnight, so they could grind away while I slept, and while the area gradually dropped offline, and our limited bandwidth opened up.
Even that stopped working a few days ago, and for the past three mornings, I've awakened to find the uploads I've tried have just timed out.
Last night, I got "up" at 11 PM to babysit my first upload, and it went through. I did the same for a second, and it worked, so I started a third, and I thought maybe I'd solved the problem, but then that third upload timed out. At 2 AM, I gave up on it, and I went back to bed to catch a little sleep before getting up again at 4 AM this morning.
I'd hoped for a short delay of no more than a week in all of this on the Let's Get Digital launch, but after what I think was really my last, best effort last night, that's not realistic.
Because what IS online isn't even in order, I'm not in a position to open things up, so you can dig into what's there as I continue daily uploads because what's already online is a miss-mash of stuff based on file size and not lesson number.
That's left me faced with choosing a new date: One that I feel as close to 100% confident will work as I can be – unless the internet itself is shut down – no matter what the weather here and the internet connection here brings.
It's hard math…the balance between wanting to do things as quickly as I can versus not wanting to set a date that I can't meet…
Looking back, it's kind of comical that from the very start I'd mentioned that my planned launch on the 26th was subject to any weather and/or internet issues as at that time, we knew there were still storms headed our way, and we were in the midst of a whole bunch of planned power outages for repairs.
Now, like you, I can only guess at what's going to happen in the next few weeks, so in the end, I tried to pick a date that allowed room for making more adjustments around my personal technology issues while trying not to put it off too long.
The date that kept making the most sense to me was APRIL 23RD, so that's what I've settled on.
That's a bump of exactly 4 weeks, which is one part a long time and one part the blink of an eye.
It's my hope you'll stick with the Digest until then, and that you'll be ready to dig in with me at that time to learn the ins and outs of creating DPJNs.
Next time, I'll share a sneak peak at the main course content with you.
Okay, that's it for this Edition!
Shawn