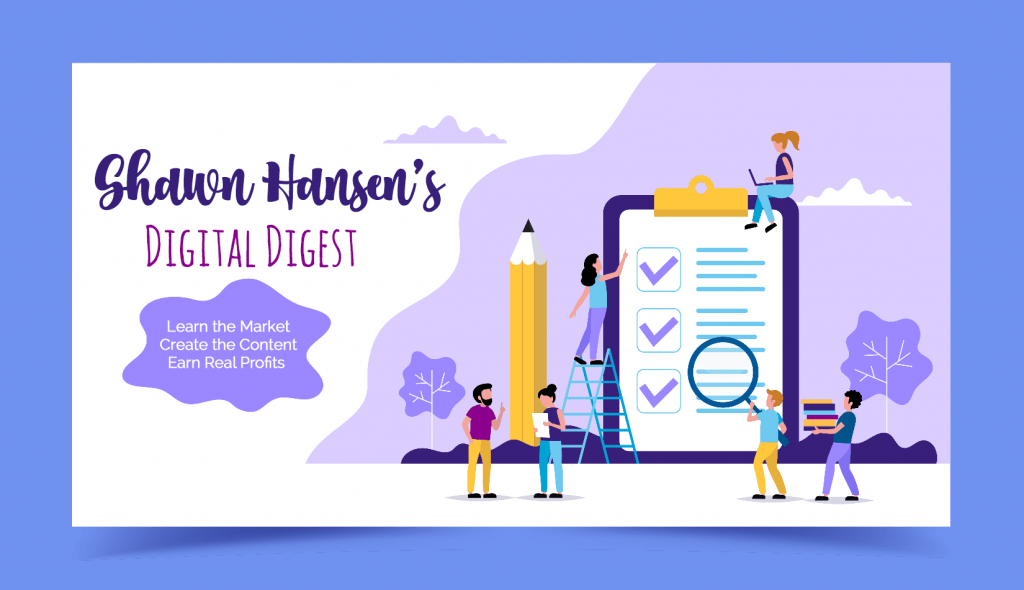 Are You Ready to Go Paper Free and Save a Tree?
---
Today's edition of the Digest is all about YOU, and specifically, YOU the DPJN EXPERT.
One of the typical barriers to many people pursuing new things is FEAR, and specifically both fear of the unknown and fear of failure.
We've ALL been there, and we all KNOW we CAN overcome those fears, but knowing it and doing it are separate issues – we know that, too!
Oh, and just to make things even more complicated…
It's one thing to try something new privately, but to put yourself out into the world while doing a new thing?
THAT just adds an extra layer of terror, right?
The "antidote" to that particular extra layer of terror is often plunging head first into learning EVERYTHING about the new thing, and becoming SO OBSESSED with the EVERYTHING part that suddenly, there is ZERO DOING and an OVERWHELMING amount of LEARNING – in the name of BECOMING an expert and AVOIDING both the unknown AND failure.
In fact, many people USE the "I need to be an expert" excuse before DOING much of anything new in an attempt to AVOID those fears.
The end result of that approach is a whole lot of trips down various rabbit holes, a bunch of notes, a whole host of bookmarked links, a notepad of ideas and plans, but NO DOING.
And the thing is that NO ONE has EVER become an EXPERT at ANYTHING without a LOT of DOING.
So, knowing that, how do you get into the right frame of mind to try something new like creating and selling DPJNs without letting that nagging set of fears lead you down the path of never-ending learning to avoid the doing?
It's actually simple: Embrace the concept of becoming an AS-NEEDED EXPERT!
For example: I'm guessing that you might not know EVERYTHING about the English Language, but you know enough about it to be reading this, comprehending what I'm writing, and having your own thoughts about it, right?
Oh, and very likely you're reading this on some kind of device that you know NOTHING about in terms of how it was manufactured, or how it can be repaired, or even the right way to read the schematics for it, yet there you are EXPERTLY USING the very thing you actually know very little about.
Like you, I've done a LOT of new things in my life – from learning to walk and talk and write to learning to: ride a unicycle, teach students, build websites, care for special-needs animals, cook, launch a product, and on and on and on.
And you know what? When I started down the path to each of those things, I knew NOTHING, had NEVER done them, and to one degree or another, each of them TERRIFIED me at first.
I cannot walk on my hands. I do not speak or write in any other language. I cannot ride a motorcycle….
In other words, I am NOT AN EXPERT at ALL THINGS WALKING or ALL THINGS TALKING or ALL THINGS WRITING or ALL THINGS RIDING, but I most certainly AM an AS-NEEDED EXPERT in EACH of those areas.
And THAT is the KEY to overcoming the fear of both the UNKNOWN and FAILURE as you try ANYTHING NEW!
You begin by acknowledging that you're going to LEARN ONLY WHAT YOU NEED MOMENT TO MOMENT, so you become an AS-NEEDED EXPERT.
Now, I'm am NOT suggesting you take shortcuts, try to rush, or give any less than 100% of your effort as you do this, but I am suggesting (in a demanding kinda way!) that you allow yourself the latitude to LEARN a LITTLE and DO a LOT.
Let's talk about the concept of the "As-Needed Expert" in the context of my upcoming "Let's Get Digital" course.
Should you choose to join me in this journey, you'll be learning to design your DPJNs in Adobe Illustrator (AI).
Did that make you cringe? Sweat? Worry?
Well, if it did, you need to take a deep breath, relax, and know that you will NOT have to become an EXPERT AT ALL THINGS ADOBE ILLUSTRATOR!
All you'll have to become is an AS-NEEDED EXPERT IN AI – and in the training, I guide you though that process by DOING.
You won't spend hours and hours learning EVERY tool, EVERY trick, or EVERY option in the application because we only need a FEW THINGS to do all the necessary work.
And to be clear: I am NOT an AI expert! I am "only" an AS-NEEDED AI EXPERT, and I plan to make YOU one, too! 😉
Of course, THAT part you'll be doing in private: Following along during the training as we create our 3 DPJN projects, learning the ins and outs of AI and how to hyperlink properly in either Keynote or PowerPoint (more As-Needed Expertise), and putting things all together.
But after that, it's out to the world you'll go WITH the new things you create based on what you learn, and THAT'S where things could get uncomfortable again IF YOU LET THEM!
Once again, I want to impress upon you that even the process of setting up your first DPJN to sell is an example of becoming an AS-NEEDED EXPERT.
You most likely will NOT have the "best" website, shop, designs, or business plans at first, but that is PERFECTLY FINE!
No one begins ANYTHING in the role of BEST, and, plenty of people who are NOT "best" do EXCEPTIONALLY WELL in EVERY endeavor you can think of.
Everyone who does well in whatever it is she pursues does it gradually, and that means not only does working to become an As-Needed Expert fit well into the concept of growing to your potential while making strides along the way, but also, it takes ALL of the pressure off of being "perfect," "knowing it all," and hesitating to DO.
The other thing – and honestly I think this is the most IMPORTANT thing about being (and becoming) an As-Needed Expert – is that it MAKES THE WHOLE PROCESS FUN!
If you think about what it was like when you were a kid learning to do new things, there was a lot more FUN involved.
In most cases, kids approach new stuff with a carefree attitude, with an expectation that they CAN do the thing, and with an almost unlimited amount of patience to try and fail and try and fail and try and fail until they "get" whatever it is they're attempting.
Most kids don't care WHY training wheels on a bike work, or WHY momentum once those wheels are off make balancing easier – they just keep trying until the "get" the whole riding a bike thing right.
So, be a kid, ride a bike, don't worry too much about knowing more than you need to to get the job done while having fun, and you'll be an As-Needed Expert in whatever you choose to undertake in no time. 🙂
Okay, that's it for this Edition!
Shawn