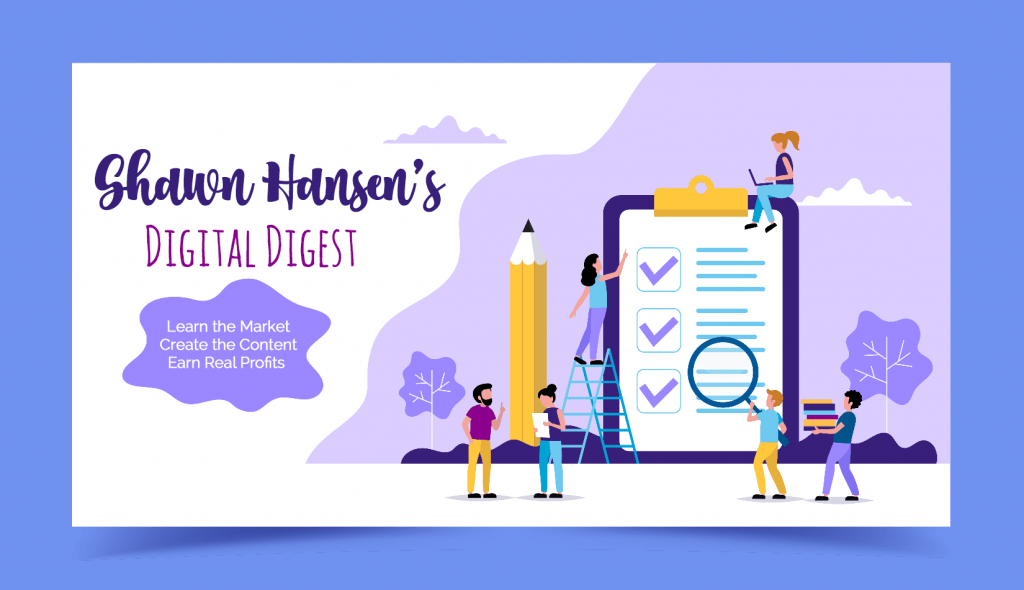 Are You Ready to Go Paper Free and Save a Tree?
---
Last time, one of the questions I answered was this one:
QUESTION #2: I want to try a few DPJNs, but I'm not sure where to begin. What do you recommend?
ANSWER: I recommend you wait until Sunday. I'll be talking about that very thing in detail, and I might even have a very special something for you. 😉
When I wrote that, my intent was to spend THIS edition of the Digest focused almost exclusively on some of my favorite DPJNs and designers, and to share a little something with you as well.
However, once I released that peek at the training, I got a LOT of excited replies – thank you! – and a whole bunch of questions – thank you, again!
In fact, SO many people wrote to me with their comments and to ask me questions after seeing the training preview, I wanted to spend ONE MORE edition on Q & A, before digging into new things.
NOTE: I am STILL happy to take your questions, but after this edition, I want to focus more on the information I've had planned for you from the start, so I'll be limiting the in-edition questions & answers to just one or two from here on out, the rest I'll respond to personally. 🙂
So, NEXT TIME, I WILL share my favorite DPJNs and designers, and I'll have a little something I think you might enjoy as well.
Okay, here we go with the MOST COMMON QUESTIONS…
QUESTION #1: I've always had issues embedding fonts in my low-content PDFs, and since DPJNs are also PDFs, will you be going over that, Shawn?
ANSWER: NO! I don't go over font embedding because one of the many reasons I teach designing in Adobe Illustrator is that you will NOT have to worry about ANY font embedding at all.
With that said, I'll consider adding a bonus session where I cover that, but it's not necessary to create DPJNs my way.
QUESTION #2: Shawn, I've created a couple of very basic DPJNs, but no matter what I do, some parts of what I've made get very blurry when I load them onto my iPad for testing. Will you be covering how to prevent that?
ANSWER: YES! Again, one of the reasons I design my DPJNs in Adobe Illustrator is to ensure the transition from design to user-ready PDF is EASY and the end result is HIGH-QUALITY. ("Pixelation" is the term for that blurriness that can happen when low-resolution graphics are used and/or increased in size.)
Given many end users will ENLARGE the pages to write on their digital devices, it's important to design with HIGH-RESOLUTION and overall ENLARGEMENT in mind, while also addressing the need to keep file sizes on the small size, so the user's experience is trouble-free.
Larger files can lock up the devices AND the apps customers' use, so knowing how to create high-resolution end products while keeping file sizes reasonable is really important.
QUESTION #3: Can you clarify whether you'll be teaching design on a computer or on an iPad, and if it's on a computer, do I have to be working on a Mac, Shawn?
ANSWER: The MAIN training is ALL on a computer, and whether or not you are on an Apple (Mac, iBook, Mac Mini, etc.) or a PC does NOT matter.
After I walk you though designing your projects in Illustrator, we'll shift to the final process in either PowerPoint or Keynote: The application choice will be yours, and I walk you through BOTH.
The iPad-only training is just that: Learning to do ALL of the same stuff right on an iPad.
It will require an iPad Pro of any size and two FREE pieces of software.
QUESTION #4: Shawn, the training preview you shared made it look as if creating binder rings takes just seconds. Is that true? And is it the same for the dot grid paper? I wasn't sure since the video was fast.
ANSWER: YES and NO!
The dot grid you saw in that preview did take less than 30 seconds to create, and doing it in the projects takes only a little bit longer.
I'd estimate dot grid paper requires 5 minutes or less from start to finish to create within your overall paper design.
The rings take more than a few seconds to create, but the binder rings you saw in that preview took less than 2 minutes to create in real time, and in terms of the projects you'll create and the various types of rings you'll learn to design, the process takes 5-15 minutes depending on the complexity of the rings.
QUESTION #5: I am really nervous about one thing you mentioned, Shawn, and that's creating videos to go along with my DPJNs. I'm just not sure I can do those, and I'm wondering if that means I can't enter this market.
ANSWER: I completely understand your hesitancy over videos. A lot of people hear "make a video" and immediately become intimidated.
Part of the training I'll be offering is focused on learning to create the kinds of videos the top performers in this market produce to help promote their products, to get their customers – and potential customers – excited about their items, and to ensure every user has an excellent user experience.
My personal option – based on a lot of research in the DPJN market – is that you DO have to create videos for every item you want to sell.
Can you enter the market without doing that? Sure! I just don't think you'll be as successful.
QUESTION #6: Shawn, I know you said your training is going to be video and not live webinars, so what happens if I have questions?
ANSWER: As part of your purchase, you'll gain access to a special mastermind group, so you can ask questions, share tips, and make sure you keep heading in the right direction with your DPJNs.
I'll also continue sharing specifics, answering questions, and keeping you up-to-date in the DPJN world through the Digital Digest.
Okay, that's it for this Edition!
Shawn