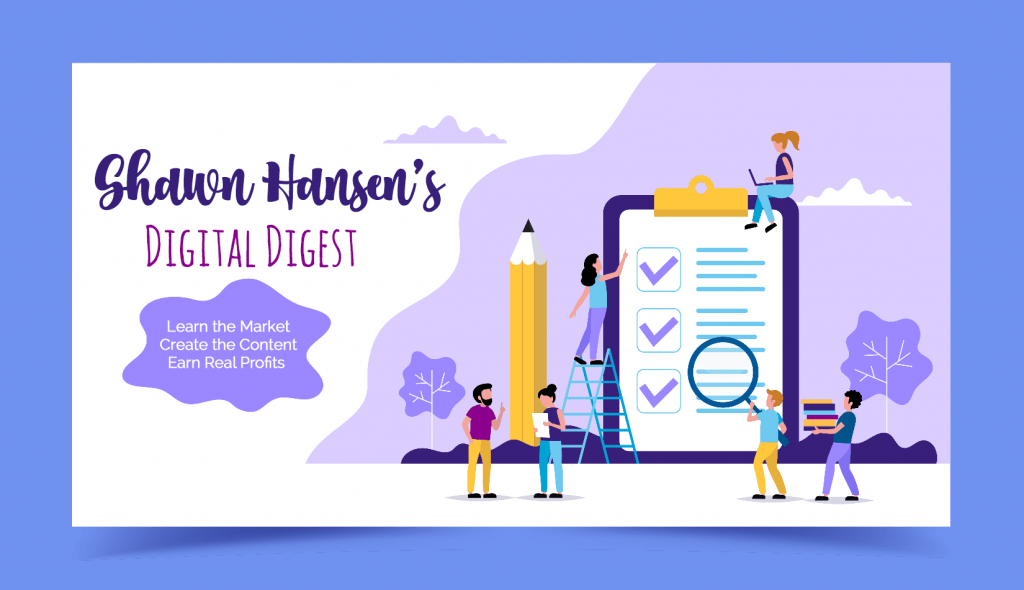 Are You Ready to Go Paper Free and Save a Tree?
---
This edition of the Digital Digest begins with some more Q & A, and at the end, I have a link to a training preview to share with you, so read on!
As always, feel free to email me questions!
QUESTION #1: I understand I need a tablet device to learn about DPJNs and to test mine before I put them up for sale, Shawn, but I can't afford an iPad. What windows or Android device do you recommend?
ANSWER: I haven't a clue – sorry! When it comes to tablet devices, I've got ZERO experience with anything other than a variety of models and sizes of iPads and iPad Pros, so I honestly don't have anything to offer in this area.
I would suggest you spend time looking at reliable reviews online, asking actual DPJN users who are not on iPads what they use, and doing research about the DPJN-compatible apps that run on the different non-Apple devices that are popular. (Xodo is the most popular that I know of in the non-Apple world.)
QUESTION #2: I want to try a few DPJNs, but I'm not sure where to begin. What do you recommend?
ANSWER: I recommend you wait until Sunday. I'll be talking about that very thing in detail, and I might even have a very special something for you. 😉
QUESTION #3: Shawn, I was wondering if your training will include setting up an Etsy shop and adding products.
ANSWER: YES! How to sell DPJNs from both Etsy and your own website will be a part of the training I offer as will how to create how-to-use/unboxing/product highlight videos for the items you offer.
QUESTION #4: I'm on a pretty tight budget, Shawn, but I really think this is a market I want to learn. I have PowerPoint, but what else will I have to buy?
ANSWER: I don't teach DPJN creation in PowerPoint. I also don't teach it in Keynote – unless you join the iPad-Only training.
In the main course, which is training you follow on either an Apple or PC desktop/laptop, PowerPoint and Keynote are used only briefly and at the VERY END of the process to do only one thing: To add Hyperlinks to make what you create navigable by the end users.
As for what I do use to create DPJN elements, well, you'll see in the training preview! 😉
I do want to note that my training is ALL-INCLUSIVE and COMPLETELY CROSS PLATFORM.
That means you won't have to worry about whether you're working on an Apple computer or a PC when it comes to following my training every step of the way.
And as is always the case with my courses, the workflows I share with you will ensure you're able to work in an organized, quick, and easy manner, so you can enjoy the process AND get to selling while creating the very best quality products possible!
QUESTION #5: Shawn, will you be showing us how to create a…?
ANSWER: As I mentioned previously, my course focuses on creating DPJNs from the ground up, and the best way to learn to do that is to DO THAT! LOL
The training will begin with an overview of the whole process, so we all know what we're trying to do, and how we'll get it done.
From there, we move into actual PROJECTS during which you'll work along with me as I show you how to create several different DPJN items.
By the time you finish the training, you'll have created a minimum of THREE complete projects that are fully functional.
Now, it's time to share the link to that training preview…
This video is an excerpt of the foundation training where I show you how to set up your workspace to ensure you're dealing with ONLY the tools you need, and then I share two quick examples: How to design binder rings, and how to create perfect dots for dot grid paper.
The projects show this in greater detail, but this foundation video will show you how easy this is to do – even if software and design are a little intimidating to you!
NOTE: The design portion is sped up to 5X speed and has no audio to protect the actual course content which is delivered at normal speed and with the audio in place. 🙂
Enjoy the Preview!
Shawn