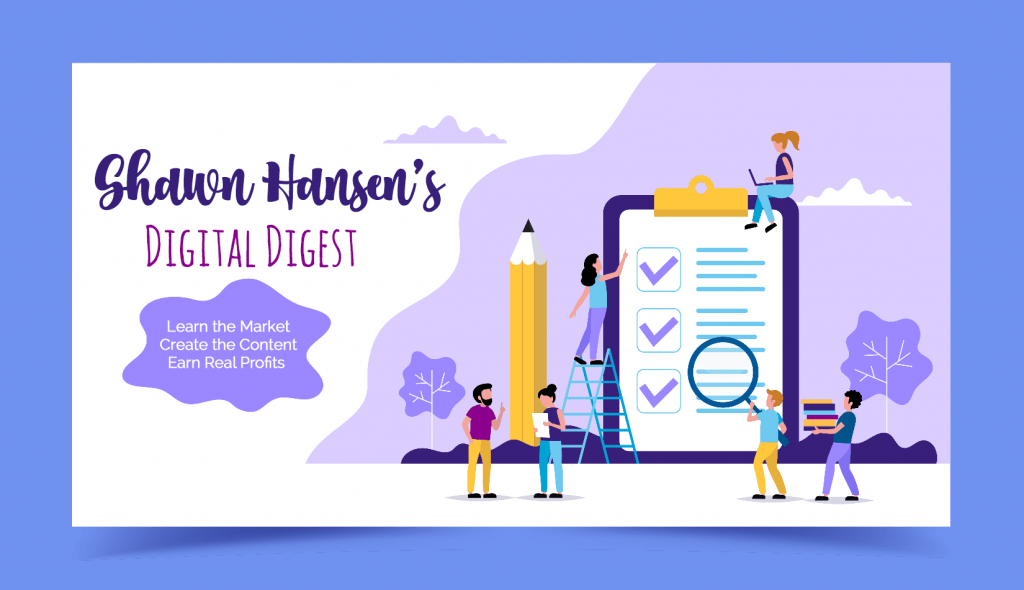 Are You Ready to Go Paper Free and Save a Tree?
---
Today's edition of the Digital Digest is primarily a Q & A, which I think you'll find valuable, enlightening, and even amusing in parts!
You've sent me SO MANY great questions, so I thought dedicating this edition to the most commonly asked ones made sense.
I'll handle as many as my granny hands allow today – I'm shooting for 5 – and Wednesday, I'll tackle a few more along with giving you access to a training preview. 😉
Please feel free to keep your questions coming: I'll keep answering the ones that are less common personally, and I'll set aside the more common ones for Q & A times like this!
Okay, let's get started!
QUESTION #1: Shawn, if I've never designed any journals or planners, will your course be over my head?
ANSWER: NO! While having a working knowledge of journals and planners and how they're made might make designing DPJNs feel more familiar, the design tools are different and the design approach is different, so prior knowledge and experience aren't needed.
I am 100% confident that ANYONE with BASIC computer skills, who can follow clear, and well-organized instructions CAN do this and ENJOY the process.
QUESTION #2: You do a lot of creative stuff Shawn, but I'm not very artistic. Will that be a problem for me?
ANSWER: NO! If you take a look at Etsy, you'll see DPJNs come in a wide range of designs and styles from very minimalist to extremely detailed.
Not only will I help you LEARN to be more creative, but where YOU fall in the creativity spectrum is going to be just fine because there are customers for all kinds of styles! 🙂
If you look with a critical eye, one of the things you'll notice is the DPJNs you see available commercially are NOT heavily decorated right out of the box – Aside from the various backgrounds on which the DPJN sits and their covers.
Interiors tend to be free from much decoration to allow the USER to create the look and feel she wants.
What we do as designers is to create an aesthetically pleasing, fully functional framework the USER makes her own.
We choose colors, fonts, layouts, little splashes of interest, and navigation, but USERS will choose the stickers and other embellishments they want to put ON TOP of the framework we design.
DPJNs are really a bunch of shapes – primarily rectangles and squares – that are put together in a fairly static, equidistant way.
Remember, DPJNs are used to organize and to write, so they have to be pretty regimented to help users with the chaos they bring to the table!
Now, that does NOT mean you CAN'T add your personality to the design.
What it means is if you aren't particularly creative, there is plenty of room for you in this market, and I think you'll find that after you create a few DPJNs from the bottom up, your creativity will begin to blossom, ideas will be flooding your brain, and you'll wonder HOW you ever doubted yourself! 😉
QUESTION #3: I've noticed many Etsy shops that sell DPJNs have TONS of designs in them, and I kind of feel intimidated. Can I really compete with those sellers?
ANSWER: YES! Every seller on Etsy started with ZERO items, ZERO sales, ZERO customers, and grew from there.
As long as you are persistent; consistent; and you pay attention to the expectations, needs, and demands of the DPJN market, I believe you CAN compete.
With that said, you are NOT going to get rich quick!
You have to be invested in the PROCESS of creating DPJNs, and I think you have to do it from the ground up to grow a solid customer base and to achieve long-term success.
I love coming up with ideas for DPJNs, designing DPJNs, and demonstrating their use, so more and more people embrace them.
The future is undoubtedly digital for reasons that include environmental impact, convenience, and even portability.
Because THAT'S the position from which I come, my training will emphasize YOU as the DESIGNER versus you as a pieces-parts COMPILER or pre-made content manipulator.
If you want to learn to take premed content and turn it into a DPJN, my course will NOT be for you. (And that's not a judgement, it's just honest.)
QUESTION #4: I don't have an iPad, Shawn, can I still take your course, and will I still be able to create DPJNs?
ANSWER: YES, you can still take the course, and YES, you'll still be able to create DPJNs, but…
I've mentioned more than once that I really, really, really think to succeed you need to either USE DPJNs yourself, OR you need to LEARN to use them in order to understand the market as well as to cater to its needs.
I can't imagine ANYONE would decide to write mystery novels having never read one, or decide to be a chef who specializes in Vegan meals having never eaten one and understanding the culture that IS veganism.
This is NO DIFFERENT!
At the very least, if you don't have an iPad with pencil capabilities of your own, I highly recommend you make a deal with someone you know who does who will allow you to put the GoodNote App onto the device and then use it to get a feel for DPJNs as well as to TEST those you create.
Which then segues into…
QUESTION #5: Shawn, can you tell me what iPad you use and/or recommend?
ANSWER: Sure! But let me split up my answer…
WHAT I HAVE: I work on a 9.7″ iPad Pro (the original 2017 model) with an Apple Pencil (the first generation.) It is WiFi only, has 128 GB of memory, and by current standards is considered "old," and "outdated." I have a simple case, and a case for my Apple Pencil and its charging cable.
It works perfectly with commercially available DPJNs, those I've created, and the current version of both GoodNotes (5) and Procreate (5), so "old," and "outdated" though it might be, it works just fine.
A few months ago, I spent about $30 on an SD card reader and an SD card.
I had to add those for two reasons: Our internet limitations mean I cannot use CLOUD storage, and that means I needed a fast, reliable way to move files around from my desktop/laptop to my iPad, AND external storage that is easy to manage.
Most people DO NOT have to jump through that hoop!
WHAT I RECOMMEND: This is a little complicated because we're on the cusp of a major change to the iPad Pro, and the new model(s) are rumored to be coming out in March, though as I've shared with those who've asked me prior to this, those devices were FIRST rumored to be scheduled for a Black Friday release and THEN a holiday release…
You can search Google using the term "When are the new iPad pros coming out?" and fall down the rabbit hole, but here are three decent articles to help you get more info and stay confused all at once:
https://www.macworld.co.uk/news/ipad/ipad-pro-release-date-3689240/
https://www.techradar.com/news/new-ipad-pro-2020-release-date-price-news-and-leaks
https://www.pocket-lint.com/tablets/news/apple/149158-next-apple-ipad-pro-release-date-specs-features-news
So…
If you have an iPad Pro with Apple Pencil capabilities, I suggest you stick with what you have, no matter the size, try this market out, and THEN consider upgrading.
Remember, I use THE SMALLEST, OLDEST MODEL OUT THERE, and I do just fine. 🙂
If you don't have an iPad, and you don't know anyone who does who will let you do some testing, and you have a tight budget, find a refurbished model – the 9.7″ is likely going to be cheapest – and use that for the time being. (They can be had for ~$300.)
If you have the budget, and/or you KNOW you aren't going to go all in on a NEW MODLE iPad whenever they DO come out, get the BEST, NEWEST, BIGGEST SCREEN iPad Pro you can afford.
You don't need a three-lens camera, the fastest processor, new screen technology, the greatest this or that to make GREAT DPJNs. (Did I mention I'm working on a little dinosaur model and doing just fine? LOL)
However, I would ABSOLUTELY go as big and as high-end as your budget can take, so you get the most life out of your investment.
QUESTION #6: Shawn, I'm on a tight budget, and I was hoping you could tell me how much your course will cost, and what additional expenses there will be.
ANSWER: I have to remain a businesswoman, and that means keeping SOME of what I plan a secret until launch day, sales pages, and promotions. (I think I'm being very transparent in all of this, so hopefully you respect my desire to keep some things to myself!)
I can tell you that the main offer – the training to create various types of DPJNs – will be in the $47 – $67 range during launch week, and from there, the price will go up to $97, and then to $127.
And no, there is ZERO chance it will be less!
As we get closer to the launch, I'll share more details, and I'm toying with revealing the individual modules and lessons about a week before the training goes live, but I reserve the right to decide for certain down the road.
Okay, that's 6 meaty questions and answers, and my fingers are fatigued, so that's a wrap for this edition.
Shawn