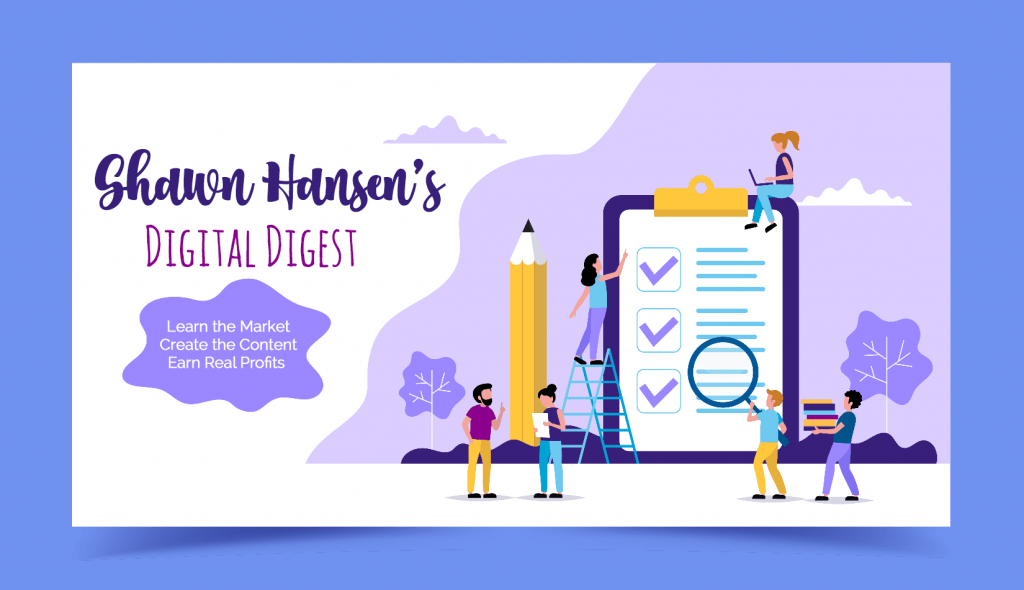 Are You Ready to Go Paper Free and Save a Tree?
---
I have to say that I am VERY happy and was humbled by ALL of the wonderful replies I received after Wednesday's first edition of the Digest.
It seems the world of DPJs is something a LOT of people have been wanting to learn more about but weren't sure where to begin, and soooo many of you let me know how much better informed you felt after the last edition – thank you for your feedback, and I will do my best to keep the standard of what you learn high. 🙂
I had a few common questions come up, so I want to take a few paragraphs to answer those before digging into the WHICH IS IT? the subject of today's digest.
Q & A from EDITION #1
QUESTION #1: If I missed the 1st edition of the Digest, can I still get it, Shawn?
ANSWER: YES! If you MISSED the first edition, you can find it here:
https://quickandeasycreativecontent.com/SHDDArchive
Whether or not you missed that, you might want to bookmark that page as I'll be adding each edition to it as we move forward, and that way you CAN catch up should you need to, AND you can REVIEW things if you want to.
DO be aware that once I launch my paid training, the Digest will switch from presale info to information that will ONLY be relevant to those who are a part of my training, so I'll be protecting that content thereafter.
Please, please, please understand that I'm NOT doing that to pressure you into a purchase, or to "spite" people who don't buy!
It's specifically to allow me to switch gears and to focus on the folks who are going to be actively participating in MY particular style of working in the DPJ world. 😉
QUESTION #2: Shawn, I've never seen a digital journal, can you do a demo?
ANSWER: YES! All ready for the NEXT edition, I have a fun video walkthrough of one of my designs, and I'll show you all the cool links, hidden elements that customers love, and the basics of what users DO with DPJs, so you'll get to see what all the buzz is about!
QUESTION #3: I am SO excited about your course, Shawn! When does it open, and when are the webinars, so I can mark my calendar?
ANSWER: It's true that I TYPICALLY do LIVE webinar training, but for THIS I've created DOWNLOADABLE videos.
I chose to make this switch to be sure weather and power outages don't result in my having to reschedule training, which has happened in the past.
We have a LOT of pre-fire-season work being done in and around the area in which I live, and as I write this, we know we'll be without power on February 25th, 27th, and 29th and on March 4th-6th while power poles, power lines, and transformers on our grid are replaced.
THOSE are the SCHEDULED outages, but we're under a "subject to 5-10 hour notice of shutoffs" plan until further notice, which convinced me LIVE was a BAD idea. It's just too chaotic and noisy to work live while on generator power. And the dogs bark. LOL
Plus, some of the training takes place using my desktop computer, and some of it takes place on my iPad, and that switching process is a HOT MESS live.
And, if I'm being 100% honest, I haven't completely adjusted to dealing with my granny hands or the ins and outs of living with Rheumatoid Arthritis.
At this stage, I have no idea what causes MY flair ups, so shooting videos meant I could work around any issues that came up for me without letting YOU down.
I'm currently in the editing phase of a whole bunch of Camtasia recordings, which brings me to…
I'll be launching the course on Thursday, March 26th at 7 am Pacific – Barring a power outage that prevents me from being online to monitor things in real time!
QUESTION #4: Shawn, do I NEED an iPad to take your course?
ANSWER: NO…BUT…
NO: You will NOT need an iPad to follow the training, to design your DPJs, or to sell them, but the tablet demos I do in the course ARE on an iPad.
BUT: As I mentioned in the first edition of the Digest, I truly believe that to do justice to this business model, you MUST either BE a DPJ user OR be willing to LEARN to USE DPJs, which DOES require a tablet device, and given the majority of the market (as I've come to know it) works on iPads, it's kind of a necessary tool in my mind.
If you've EVER taken a course from me before, you KNOW my position has ALWAYS been that the BEST, most SUCCESSFUL people in ANY market are those who PARTICIPATE in them – and that goes all the way back to my earliest courses on writing kids' books back in 2015, through creating coloring books in 2016, designing journals in 2017, and then adding planners in 2018 to THIS.
Others might do it differently, and there is NOTHING wrong with that, but MY preferred and proven business model is to BE a part of the market, and in my opinion, that's particularly true in THIS market.
And now…
SO, WHICH IS IT?
Last time, I gave you a LOT – like drinking from a firehose lot – of preliminary information about the market, the customers, and what I think it takes to be prepared to succeed in this particular business model.
I have one more firehose kinda thing I need to do before we move from really broad concepts to more specific details, which we'll kick off with that demo I mentioned that's coming your way next time!
Ready?
One of the things you'll notice in the DPJ market is that PLANNERS kind of take center stage, and JOURNALS and NOTEBOOKS fill things out.
In addition, STICKERS and KITS/BUNDLES are a H-U-G-E part of this market, and they are the KEY to keeping your customers happy and coming back to you for more-more-more. (Plus, they are SO MUCH FUN to create!)
When you add stickers and kits/bundles to your offerings, you create an ongoing income stream, which is even more powerful when…oh, that I'll save for my course!
Now, that information only helps you if we're all on the same page about WHAT those things are, so…
PLANNERS: The terms "planner" and "journal" are linked so often some folks forget THEY ARE DIFFERENT.
A PLANNER is designed for…wait for it..PLANNING!
That means the guts of a Digital Planner (DP) feature elements designed to keep track of days, dates, weeks, months, times, lists, goals, and so forth.
A JOURNAL is designed specifically for WRITING.
When days and dates and similar elements are inside a Digital Journal (DJ), they function as secondary to the WRITING space.
The FRATERNAL TWIN to a JOURNAL in the DPJ market is the NOTEBOOK, which is ALSO specifically designed for WRITING.
Digital Notebooks (DN) differ from DJs in their layout.
Typically, a DN will have SECTIONS like the 3-Subject and 5-Subject notebooks many of us used in school, and often each section will contain different types of "paper" to allow users to take written notes in an English class, create diagrams in a math class, and to doodle when the subject matter is booooorrrrrring. LOL. I'll talk more about paper in a later edition.)
DNs also tend to feature SOME kind of calendar element to allow users – typically students – to note their class schedules and exam dates.
Of course, at the end of the day, what USERS want is what gets created, which brings me to HYBRIDS.
Hybrids – not a technical term, just MY word for them – combine elements of Digital Planners, Digital Journals, and Digital Notebooks for users who want an all-in-one solution.
These are VERY popular, and customers are willing to spend a LOT of money on them ($40+) when they're well done.
Generally, HYBRIDS are called PLANNERS even though they contain elements that are specific to both JOURNALS and NOTEBOOKS.
This kind of DP will have the expected PLANNING elements, but it will also include other "stuff" like places and spaces for writing, tracking things, making lists, doodling, collecting, etc.
An offshoot of the HYBRIDS that are out there and also very popular are THEMED, and these also generally go by the name PLANNER.
Examples in this category include WEDDING planners, PREGNANCY planners, HOME SCHOOLING planners, MARATHON TRAINING planners, WEIGHT LOSS planners, and so on.
By now, you probably have a LOT of ideas bouncing around in your head when it comes to the kinds of designs you want to create, which is EXCELLENT!
It's also very likely that EVERYTHING you're thinking you want to create HAS a solid customer base.
And now that we all know DNs are a big part of this market, I'm going to change from using DPJs to using DPJNs when referring to it!
Which brings us to STICKERS and KITS/BUNDLES.
Last time, I mentioned that one of the big differences in the DPJN market was that CUSTOMERS want to DECORATE what they purchase ON THEIR OWN and that what WE create is really nothing more than a PLATFORM or FOUNDATION for THEIR creativity.
That decoration takes several forms:
#1: How users WRITE in their DPJNs
This includes things like color-coding and stylized handwriting.
#2: What users ADD to their DPJNs
From cute moon-phase graphics to glasses of water to pizza night reminders and other similar elements, users LOVE this stuff.
"Stickers" in the DPJN world are images that can be copied and pasted onto the various pages and spaces within the users DPJN.
Stickers are a market on their own, but many creators include a few in the DPJNs they release.
In fact, stickers are SUCH a HUGE part of the DPJN market that many designers create and sell STICKER BOOKS – digital storage – for users to house ALL of their stickers.
We'll talk about creating Sticker Books in the course, but think of a NOTEBOOK with BLANK PAGES and lots of tabs and you'll get a general sense. 🙂
#3: The EVENTS, HOLIDAYS, and OCCASIONS users want to highlight in their DPJNs
This is where STICKERS actually become KITS/BUNDLES, and you can have a load of fun being creative while building a product line that users will be on the lookout for!
Where stickers are set up in pages or sets of items for general use, KITS/BUNDLES are multiple pages/sets of stickers designed with a specific event, holiday, or occasion in mind.
For example, this link: https://www.etsy.com/shop/CCMDigitals?ref=simple-shop-header-name&listing_id=676120104&search_query=easter
Will take you to a page with two EASTER kits.
Should you decide to jump into this market, the DPJNs you create will be the BASE products you offer, and STICKERS, KITS/BUNDLES will be add-on elements.
I have a particular strategy that I'll be sharing in my course that will help you create these add-on items in a way that will allow you to establish a connection with your customers, so they keep coming back to you for more. 🙂
And that's a wrap until next time!
Digging Digital,
Shawn