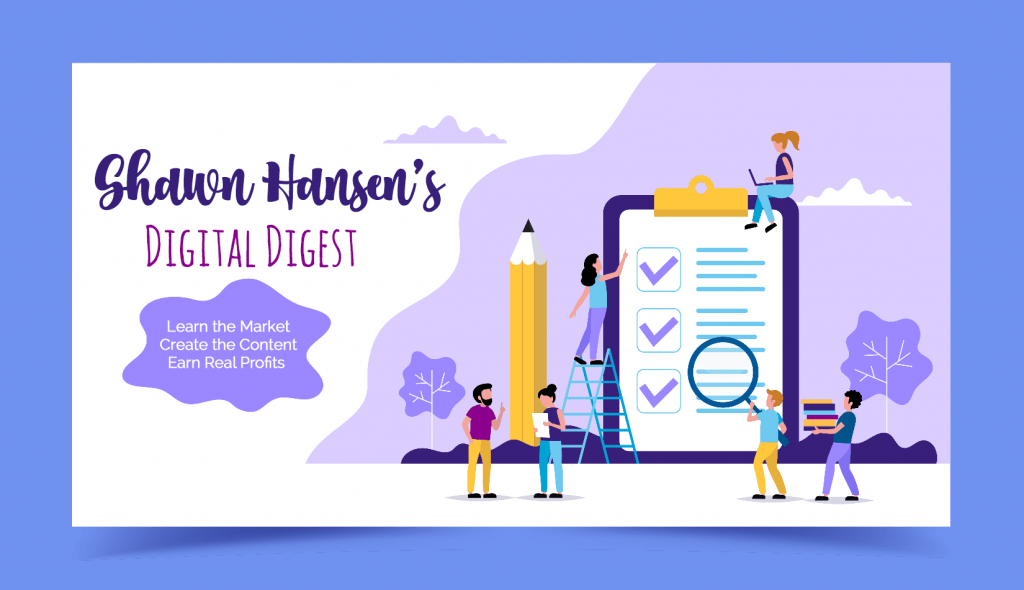 Are You Ready to Go Paper Free and Save a Tree?
---
In today's edition of the Digest, I wanted to let you know about something really exciting I've been playing with, but first, I want to give you an update on the course, and answer a question…
COURSE UPDATE
For the past 10 days or so, I've been adjusting to the new timeline of my internet availability and using my hands. I think I have a pretty solid sense of what I can (and cannot) do with both of those in mind, but I want to take one more week before announcing a new date to be sure I really DO have a solid sense of this new reality, so if you'll hang in with me for one more week, I'l have a date I feel confident I can meet no matter the challenges!
A QUESTION AND AN ANSWER
I wanted to address a question I received after the last edition of the Digest here because I think it's a critical question, and I've been asked by a lot of people about it, so here goes…
Q: I have avoided creating and selling digital planners because I'm afraid of theft. It seems to me that a buyer could easily "share" or "give away" a single purchase to many people. Do you have a method to limit the file access management?
A: Whenever I've been asked this, the person on the other end of the email ALWAYS points out that the MAJORITY of customers are NOT going to do this, so let's start there and agree that MOST customers are honest, and we don't need to worry about them misbehaving.
That leaves the liars, cheaters, and thieves, and frankly there is NOTHING we can do to stop them.
There is literally NO WAY to stop someone who downloads a digital file from abusing it if that individual is so inclined, and since many payment processors and third party platforms do not allow file locking and similar security measures, using them is far more dangerous for sellers than the few thefts we all have to accept.
One thing to keep in mind is that the end-user's version of any DPJN you create is EXACTLY THE SAME as any other PDF out there that is being sold and purchased from all kinds of places, so those of us who have been selling digital content have had to accept that some theft will occur for YEARS.
It's actually no different than a brick & mortar store: Theft is a fact of selling, and while none of us likes it, the bottom line is that it WILL and DOES happen.
The BEST way to protect yourself is to BLACKLIST and BAN every single person who EVER refunds from you – It's a fact that almost every thief buys and then refunds, so they stick out pretty easily.
The RARE exception to the above is the person who does a LOT of business with you over time and/or for accidental duplicate purchases. Those are NOT thieves.
Getting back to the icky folks…pass those names along to OTHERS IN THE MARKET. Those of us who sell digital items DO share the names of refunders and problem customers ALL THE TIME as a means to protect our LEGITIMATE customers AND our profits.
Other than that, my suggestion – and what I do myself – is to IGNORE the few bad apples while focusing on the 99.9% of the people with whom I do business who are lovely, appreciative, and a lot of fun.
Of course, there is ONE other exception: If you EVER find a thief who is SELLING something of yours, you DO want to take the time to contact the platform, the website, etc., and do what is needed to force a take-down of your product. I've had to do that a few times, and while it's a real pain in the rear, letting others profit illegally from your work is worth the fight in my opinion.
Hopefully, that clarifies things for those of you who are troubled by theft, and what to do about it!
SOMETHING REALLY EXCITING
In early March, I found a really cool app that had just launched, and I have absolutely fallen in love with it.
It's called Zinnia, and it's by Pixite, the same folks who blew my mind with their Pigment App.
Zinnia is one of the most amazing Apps I've ever tried, and it's really made me think about how I design my DPJNs in a whole BUNCH of new ways.
I'll talk more about this app next time, but for now, if you've got an iPad or an Android device, I suggest you check this app out for yourself: I can pretty much guarantee it's going to get your creative juices flowing in ways you'll love!
You can learn more at the Pixite website: https://www.pixiteapps.com/zinnia
Okay, that's it for this Edition!
Shawn
P.S.
Until the launch of "Let's Get Digital," I've decided to make the Digest a SUNDAY publication. Once the course launches, I might ramp things back up to twice each week, but for now, it's a SUNDAY thing!
P.P.S.
Last time, I did say I was going to share a profitable way to LEVERAGE your DPJN designs that has to do with design and keeping your file size manageable – something that customers L-O-V-E.
It turns out, that little tidbit fits nicely with some of what I've been inspired by in the Zinnia App, so I wanted to wait a week until you've had a chance to check that app out – if you haven't already – before I dig into that discussion. 🙂