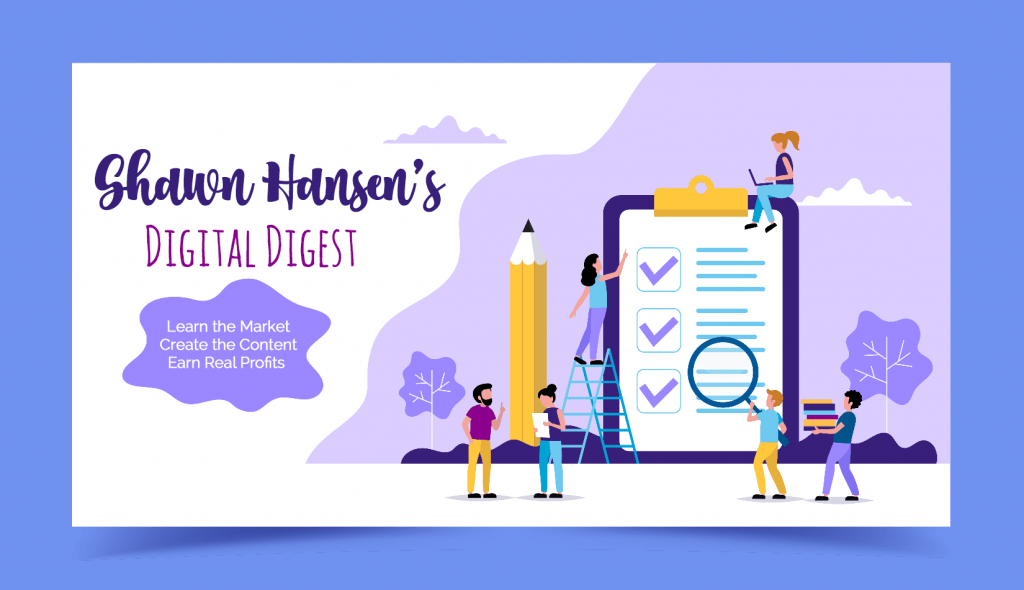 Are You Ready to Go Paper Free and Save a Tree?
---
In today's edition of the Digest, I'm wrapping the multi-part series about some technical stuff you need to know before designing your DPJNs.
Last time, I left off after walking you though the connection between an iPad's PROCESSOR, its STORAGE CAPACITY, its RAM, and the SIZE of your DPJN file.
TO RECAP:
The harder a device has to work to navigate your DPJN, the more it takes away from its ability to do ALL of the things user's require it to do simultaneously and well – like dealing with alerts, email, messages, and other apps – and if you're not careful, your DPJN can cause the iPad to CRASH.
MOVING ON…
Obviously, the next natural question is: HOW do you create GREAT DPJNs with an eye toward keeping its final file size SMALL?
The answer is pretty simple: You need to use the right tools, the right design aesthetics, and the right compression to get it done!
One of the reasons I design using Adobe Illustrator is I'm able to create beautiful designs without adding a lot of bulk to the end product.
In terms of design aesthetics, if you look at the best selling items in the DPJN market, you'll notice they are not filled with a ton of graphics or excess, which serves two purposes:
#1: It leads to smaller files.
#2: It allows end users the freedom to customize – something that is an expected standard in the market.
Finally, the right level of compression is key to going from a huge, bulky file to a slim, trim, and super-responsive PDF the end-user gets – without compromising image quality, which is important given many end users ZOOM IN to do their writing.
By the way…if you feel as if a small file is limiting, don't!
Not only can you do amazing design work without ending up with a huge file, but also there's a profitable way to LEVERAGE this that customers L-O-V-E.
More on that next time!
Okay, that's it for this Edition!
Shawn
P.S.
If you noticed that I removed the COUNTDOWN to the course release from the top of this message, you get a gold star.
I've once again had to make a launch adjustment due to our internet and my health. I'll be evaluating the new state of things as they are here for the next 10 days or so, and based on the new, new normal, I'll establish a date I feel will work with an eye toward no further delays once I establish it.
This isn't an easy thing for me to do, and to be frank, the challenges that keep cropping up overwhelm me at times, but like you, I'm doing my best to roll with the changes, accept things as they are, and remember how fortunate I am in the grand scheme of things.
I chose to put this in the PS as I don't want it to take center stage, but if you're interested in the details…
In California, schools were closed beginning on March 16th, and three days later, on March 19th, the state began observing a first-in-the-nation stay-at-home policy.
I applaud my governor and my state for taking early, decisive action, and the lives we – and other locations and citizens like us – are all saving are well worth the effort.
Not long ago, the decision was made in California to cancel the remainder of the in-person school year at ALL educational levels and to roll out state-wide virtual learning.
That started in our area on Monday, so even more people are online during the day, and our internet simply can't handle it.
Community leaders and school district representatives are working with our local carrier to open up more bandwidth – there is ONE tower serving several thousand people – but thus far, movement to make it happen appears to be going nowhere fast.
I know that it's hard for the typical person to comprehend just what I mean by SLOW internet, so here's a little screen shot:

And yes, that's 14 minutes to download a 150 MB file, and if you know anything about bandwidth, you know average download times are FASTER than average upload times.
That's a pretty typical day on our internet, and it's indicative of what things have been like for nearly one month, since our state initiated its stay-at-home orders back on March 19th.
Thankfully, the news media is beginning to cover the stories regarding the disparity in internet service and overall access in rural communities, so we're hopeful that will put some extra pressure on our provider, but for now, things are what they are.
I've been working around the issue of limited bandwidth while folks are home by shifting my workdays to 11 PM to about 8 AM, but that's become impractical due to my health.
Early last week, I shared that I'd had increasing pain-management issues with my Rheumatoid Arthritis, and that I'd lost the use of my right had due to ongoing spontaneous dislocation of both my right thumb and wrist.
Late last week, it began in my left thumb, and I grew fearful my left wrist would follow rendering my unable to do even basic things on my own, so I had to give up working overnight as the cold – we are still getting snow here – only makes things worse.
On the plus side, I emailed my Rheumatologist on Friday, and she immediately prescribed a steroid treatment to help me – that Rx arrived on Monday, and by Tuesday evening, my symptoms had begun to subside.
As of this morning, I have full dexterity back in my left thumb, and I've regained about 50% of the use of my right hand. Additionally, the spontaneous dislocations have slowed significantly.
My pain is back to manageable, and my Rheumatologist is hopeful the ongoing steroid treatment will help me through the next 4-8 weeks I'll need to allow the switch from hydroxychloroquine to methotrexate to take hold against my RA.
The bottom line is I need to step back, to accept a new set of limitations I never imagined I'd have to face, and to allow myself to work at a pace that is flexible enough to roll with ongoing changes while also allowing me to appreciate the positives all around me.
I lost track of that at some point along the way, and I see now it was a disservice to you, to my family, and to myself.
I'm confident that over the next 10 days or so I'll have a better sense of the kind of internet service the area will have as well as the way my health is impacting me, and that once I take stock, I'll be prepared to set a realistic date for the launch of Let's Get Digital.
Until the launch, I'll keep the Digest coming!