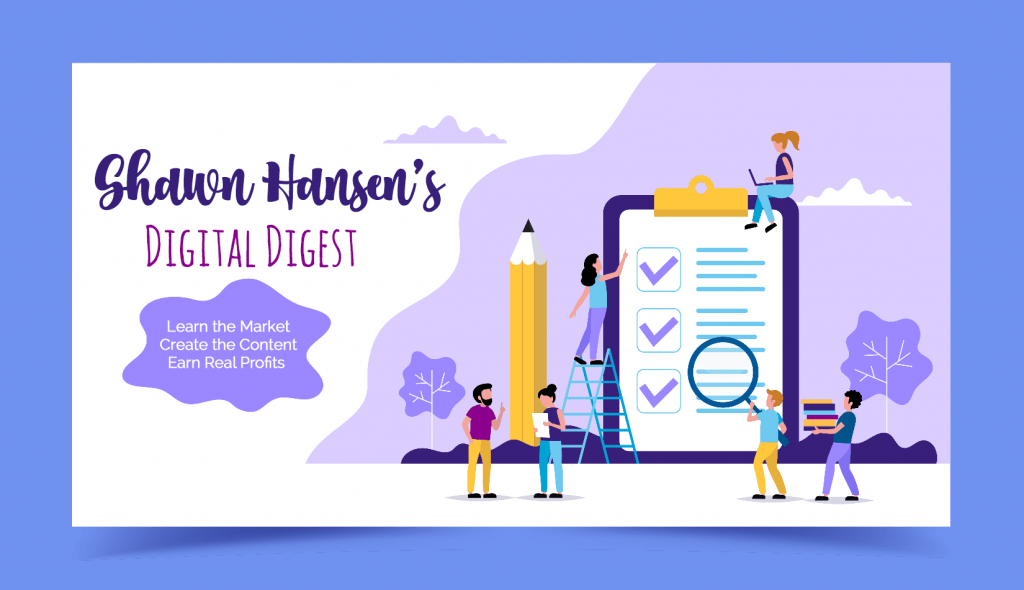 Are You Ready to Go Paper Free and Save a Tree?
---
COUNTDOWN TO LET'S GET DIGITAL COURSE LAUNCH: 15 DAYS
In today's edition of the Digest, I'm continuing the multi-part series about some technical stuff you need to know before designing your DPJNs.
Last time, I left off after introducing you to the ways Processor Speed, Storage Capacity, and RAM need to be considered when you design your DPJNs to ensure your end users have the best possible experience.
TO RECAP:
#1: The PROCESSOR – You can think of the iPad's processor as its brain, which means it's only as smart and capable as its brain is fast.
#2: STORAGE CAPACITY – It doesn't impact SPEED, but it DOES determine whether or not a user has the SPACE to add YOUR DPJN and its associated items without having to choose which apps to trash, which photos to store elsewhere, and what music goes in the trash.
#3: RAM – The more RAM a device has, the greater its capability to do things simultaneously.
MOVING ON…
We know that on iPads that STORAGE CAPACITY does NOT impact speed, but the mere act of adding a new file – the DPJN your end user has purchased from you – can create conflicts or even crash the device if the file you offer is too large for the capacity of the user's iPad.
Technically, that's the USER'S problem, and the user SHOULD know how much space she has available on her device before attempting to add more stuff.
However, unlike an overstuffed garage, a shed filled to its capacity, or a closet that's in need of serious cleaning, a device that's nearing its space capacity looks exactly the same as one that's got nothing much on it at all – unless you take the time to CHECK the status of the storage.
Quick Quiz: Without looking it up, how much space is left on YOUR smartphone and YOUR iPad?
My guess is you have no idea, and why should you?None of us really pays much attention to that until something happens – generally a crash or an alert of some kind – that requires we do some troubleshooting.
And even then, how many users think STORAGE first?
And yes, these days "everyone" stores stuff on some cloud…well, except for those of us who can't or people who don't. And cloud storage also means needing an active internet connection to access and sync things, which is not the best way to have one's DPJN at hand at all times and under all circumstances.
Add to that the fact that there are iPad Pros out there with a storage capacity of just 32 GB, and it becomes clear that your DPJN file size really DOES matter.
Setting aside space considerations, let's turn to the relationship between things happening on an iPad with both the processor and the amount of RAM, and how those things will impact the end-user's experience – things you need to consider when designing YOUR DPJNs.
The speed at which things happen on an iPad is determined by the combination of its processor speed, and how much RAM it has.
Remember: Everything that happens on a device is a PROCESS, and the most common PROCESS that takes place during DPJN use is the user clicking on a hyperlink to navigate from page to page, section to section, and date to date.
If your DPJN file is too large, the hyperlink reaction will lag, and often it will cause the app in which it's open to CRASH.
This is caused by the PROCESSOR trying to respond to the hyperlink being clicked, and it trying to move through the DPJNs pages to get to the result.
Now to be clear: The NUMBER of pages in a DPJN can be in the hundreds without it diminishing the end-user's experience – provided the file is designed the right way. Likewise, a file that's 10 pages can CRASH a device if not designed properly.
The other element – the RAM in a device – allows a device to do things simultaneously.
In other words, while an alarm goes off, a text message is received, a news update happens, another app is open, email is checked, etc., the device's RAM works with the PROCESSOR to ensure those things happen flawlessly WHILE a user is clicking hyperlinks, writing, and adding elements to her DPJN.
The harder a device has to work to do ANY of those things, the more it takes away from its ability to do ALL of them well.
Next time, I'll wrap this multi-part series up with some basic advice about how to create great DPJNs while ensuring your end product doesn't cause your end user's grief and frustration.
Okay, that's it for this Edition!
Shawn