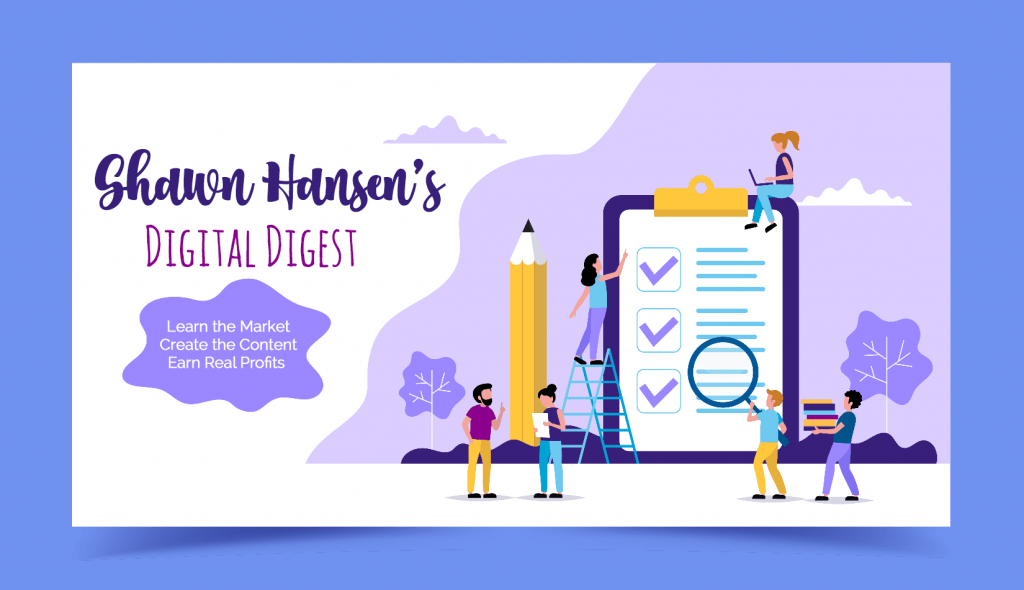 Are You Ready to Go Paper Free and Save a Tree?
---
COUNTDOWN TO LET'S GET DIGITAL COURSE LAUNCH: 18 DAYS
In today's edition of the Digest, I want to begin a multi-part series about some technical stuff you need to know before designing your DPJNs.
This actually speaks to a question a lot of people have asked me regarding DPJN file size, Etsy limitations, and delivery.
Because I'll be covering those elements in depth in my paid course, I'm not willing to answer those here outright – a gal's gotta make a living – LOL.
However, I DO want to cover the foundational information you need to understand to be prepared to design the right way.
What I'm going to share might seem like a bunch of nerdy technobabble, but I urge you to open your mind to a little infusion of geek, so you can be a better designer.
Ready? Okay!
Let me begin by reminding you that when all is said and done, what you'll be delivering to an end user is a PDF file that contains hyperlinks.
Whether it's a simple notebook, a sophisticated planner, or a dated hybrid, the number of pages and the amount of art you include will impact the file, and specifically its SIZE.
Done wrong, a simple 12-page notebook can be monstrous in size, can dwarf the size of even the most complex and multi-year hybrids, and will basically spell doom for both you and the end user.
Why?
Because the SIZE of that file will be crucial to the USABILITY of your item, and because of that, you need to understand some under-the-hood stuff about the devices your customers will be using.
I'll be talking about iPads here for both ease of typing and reading, and because they are, as I've mentioned before, far and away the most prevalent devices on which DPJNs are used.
What I say about iPads is also universal in terms of the under-the-hood stuff, so it's going to apply to EVERY customer regardless of device.
Before I dig in, I want to establish that what I am about to cover is basic information, and I'm talking in some ways in general terms, so while it might seem super-techie to some, it's not a complete overview of the guts of any device.
I won't ever go deeper than this because what follows is as much as any of us needs to know to design and deliver the BEST DPJNs we can.
Setting aside issues like screen side and resolution, the elements you need to think about include:
#1: Processor Speed
#2: Storage Capacity
#3: RAM
#1: The PROCESSOR in any device determines how fast and fluidly things get done, and by things, I mean PROCESSES.
Opening a file is a process. Clicking a link and that link responding is a process. Connecting to the internet is a process.
You can think of the iPad's processor as its brain, which means it's only as smart and capable as its brain is fast.
#2: Storage Capacity is just what it sounds like. It's the amount of space the iPad has to story things.
What's crucial to understand is that STORING THINGS includes the space occupied by the operating system, the space occupied by the apps, AND the space occupied by the content.
And CONTENT includes pictures, videos, music, and ALL of the different app-related FILES.
Unlike computers, which for the most part run on a hard drive, iPads use FLASH memory for storage, which means it's instantly accessible, so while STORAGE doesn't impact SPEED, it DOES determine whether or not a user has the SPACE to add YOUR DPJN and its associated items without having to choose which apps to trash, which photos to store elsewhere, and what music goes in the trash.
#3: RAM is what's required for an iPad to multi-task and to respond to user-requests to PROCESS things.
The more RAM a device has, the greater its capability to do things simultaneously.
Which is a good place to stop for today…
Okay, that's it for this Edition!
Shawn