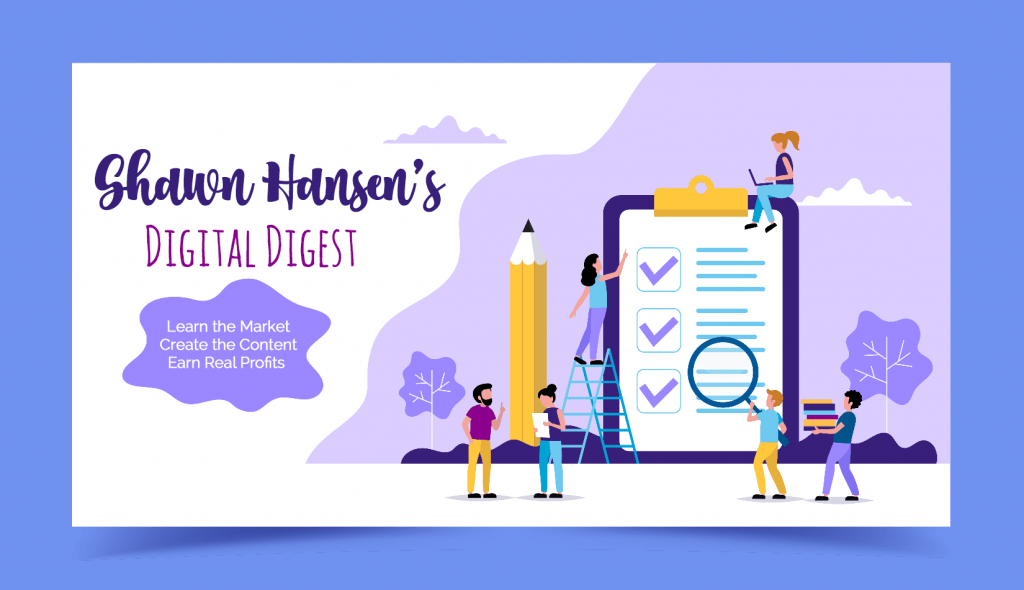 Are You Ready to Go Paper Free and Save a Tree?
---
Welcome to the very first edition of Shawn Hansen's Digital Digest!
I'm happy you're here, and I am REALLY excited about digging onto all things digital with you.
Today, I want to give you an overview of the world of digital planners and journals as I've come to know and LOVE it!
To do that, I want to point out where things are different from the world of physical planners and journals, and I want to let you in on some ways pursuing this business model is different from the Low-Content Market in which I suspect you are knee deep.
Once we've established this foundational information, we can begin digging into more specific things about the market, the products you can create, and the best ways to set yourself up to earn should you decide to pursue this opportunity.
DIGITAL PLANNERS & JOURNALS – AN OVERVIEW
Digital Planners and Journals – what I'll call DPJs for brevity's sake – are designed to be used on TOUCH SCREEN TABLET DEVICES that have PDF reading capabilities that include hyperlink response.
(That might sound complicated, but just hang on…it's NOT!)
The vast majority (~80%) of folks who use DPJs work on an iPad with a touch screen, and of that group, nearly 90% have shifted to an iPad Pro model with Apple Pencil capabilities.
There ARE folks out there using DPJs on Android, Windows, and Google devices, but they are the very clear minority, and many DEVOUT NON-APPLE people have iPads JUST for their DPJs. It is clearly the industry standard.
For this reason, and again, for the sake of brevity, I'm going to stick to "iPad" when taking tablets.
SIDE NOTE: Recently, the demand for DPJs designed for the iPhone (X Models) has increased, and there are some folks who are now designing these in addition to the more traditional DPJs.
The verdict is still out on how well the market will respond, but I suspect that the iPhone DPJs will be the go-to for the folks who prefer very stripped-down, function-over-design spreads.
Oh, and there's a term you want to know: SPREAD.
In the DPJ world, the terms "layouts," and "templates" aren't used much. Instead, there are SPREADS.
A "SPREAD" is what you see when you look at your DPJ on your iPad.
A "Daily Spread," refers to a layout that takes up the whole screen and contains design elements to plan a single day.
A "Weekly Spread," refers to a layout that takes up the whole screen and contains design elements to plan a single week.
And as a quiz, I'll let you guess what a "Monthly Spread" means! 😉
DPJs are typically designed in LANDSCAPE mode (longer left to right than top to bottom) and sized for the 12.9″ iPad Pro, though there IS a solid market for DPJs designed in PORTRAIT mode (longer top to bottom than left to right).
DPJs range from A FEW PAGES to HUNDREDS OF PAGES and are NOT meant to be printed.
They are SINGLE PDF files with CLICKABLE navigation links built into them, so a user gets the same basic feel of a PHYSICAL book when she IMPORTS the PDF into an APP and CLICKS on the navigation links.
Think about any PDF document or eBook you've ever opened that has clickable links that take you from one page to another, and you'll have the (very basic) idea. I say "very basic" because in the DPJ world, links are the HEART AND SOUL of things.
The most commonly used App in the DPJ world is GoodNotes (GoodNotes Version 5, a fairly new upgrade, is now the standard, though there are those who still use version 4.)
Other common options include Notability (another iPad App) and Xodo for Android.
In GoodNotes 5, which is what I use on my 9.7″ iPad Pro, the DPJs designed for the 12.9″ iPad Pro scale perfectly, which is the reason the vast majority of designers use the 12.9″ iPad Pro size as the standard. (If you're wondering, that's 2732px x 1920px in LANDSCAPE mode.
DIGITAL PLANNERS & JOURNALS – HOW THEY DIFFER FROM THEIR PHYSICAL COUNTERPARTS
The three biggies in my mind are…
#1: DPJs Are NOT Consumable.
When a customer purchases a PHYSICAL planner or journal, be it in printed form or via a digital download meant to be printed on a home computer, she uses the item, and then she discards it.
Customers can reprint digital content, but most of the time, they use an item one or two times, and then they want a new design.
This market HOARDS content, typically buys more than they need, and tires of each item quickly because there is very little personalization involved.
That's NOT a bad thing, but it is a very SIGNIFICANT difference!
The DPJ market buys one or two BASE Planners and/or Journals a year, and while there is also HOARDING to a certain extent, this market is INVESTED in their purchases.
DPJ users do NOT discard their items but prefer to either REUSE, ADD TO, or UPDATE what they have.
DPJs can be duplicated within GoodNotes (and other Apps), wiped clean, and reused.
In the case of DATED items (e.g. A 2020 DPJ), they look for the 2021 design the following year – customers get HOOKED on their favorite designers.
#2: DPJ Customers Want to DECORATE Their Items on Their Own.
Unlike PHYSICAL planners and journals, which are meant to be finished products in terms of design, DPJs are really just platforms to allow the customer to DECORATE as they see fit.
As designers, we choose the BASICS – the overall product layout, the interior spread designs, color schemes, fonts, rings or not, extras or not, stickers or not, the navigation tools, etc.
But the KEY to successful creation is to leave a LOT to the BUYER'S aesthetic.
(Which is also where you get repeats sales, but that's something I'll introduce in a later edition of this digest and teach extensively about in my course.)
#3: DPJ Customers Want YOU to SHOW THEM HOW (This is a BIG ONE!)
If you're still with me, and you're still feeling good about this market – EXCELLENT!
Now let's see HOW serious you are! LOL
I can say with 100% certainty that EVERY person in this market who is successful has worked to grow a devoted following, and to maintain her level of success, she has CONTINUED to nurture those people.
How? Well, it's NOT with daily (or semi-daily) emails, lots of launches, or a million products.
The DPJ market DEMANDS regular doses of FREE how-to training delivered primarily via YouTube videos.
In other words, very few DPJ customers will buy before they SEE the product in action in a video, and they get IDEAS and INSIGHTS into the item's use.
Think of this as similar to the lady in the grocery store aisle who offers you tastes of things on toothpicks to encourage you to buy the full item.
Or, if you prefer, consider it like watching QVC, where the host demonstrates everything before giving you that 1-800 number, so you can buy.
That means if you HATE the whole mail-every-day stuff, and you don't want to launch things with upsells and downsells and OTOs, this might be for you if…
…you are willing to CONNECT with your market, show them how to USE what you create, and offer them a LOT of fun extras they can add TO the DPJs they purchase from you.
And yes, getting THAT done is included in my training. 😉
So, are you still with me?
Excellent!
There's a lot more to come, but for now, I'll wrap things up with one final thought…and this is also a biggie, and it's just my personal opinion based on my research and experience…
I don't think anyone can really succeed in the DPJ business without BEING a user, a designer, and a helper.
In my training, I'll give you the tools to do each, but it's up to you to decide if this is something you want to take on. For those who do, the rewards are SO MUCH FUN!
And that's a wrap until next time!
Excited As Can Be to Share My Digital OBSESSION with You,
Shawn